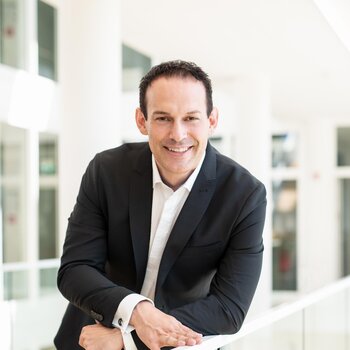 Peter Kerkrath
Founding Director & Chairman of the Executive Board (CEO)
Prof. Dr. Dr. h. c. Michael Backes
Professor Michael Backes is the founding director of the Helmholtz Center for Information Security (CISPA) He is the chairman and the speaker of CISPA's executive board.
Michael Backes was born in Lebach in 1978. After completing his community service, he studied Computer Science and Mathematics at Saarland University. He obtained his Diploma in Computer Science in 2001 after five semesters; his Diploma in Mathematics and a Ph.D in Computer Science followed one year later in 2002. Subsequently, Michael Backes moved to IBM Research as a permanent researcher at the research lab in Zurich. In 2005, at the age of 26, he was appointed as the Professor for Information Security at Saarland University. He has been a Fellow of the Max Planck Society from 2007 to 2017, and the founding director of the national BMBF-funded Competence Center for IT-Security, Privacy and Accountability (the predecessor of the CISPA Helmholtz Center for Information Security) since 2011. Currently, he is the speaker of the DFG Collaborative Research Center (SFB) on Understanding and Controlling Privacy since 2016, and he has been the director of the CISPA-Stanford Center for Cybersecurity Research since 2016.
Michael Backes's research covers various aspects of IT security and privacy and ranges from the design, analysis, and verification of protocols and systems, mechanisms for protecting end-user privacy, research on new attack vectors, to universal solutions in software and network security. His research findings are documented in over 150 peer-reviewed publications in prestigious international journals and conference proceedings. His articles have repeatedly earned him renowned scientific awards, in particular the ERC Synergy Grant as Europe's most distinguished research award, the ERC Starting Grant, the Microsoft Outstanding Privacy Research Award, two IBM Outstanding Achievement Awards, the Max Planck Fellowship, the IBM Faculty Award, and the CNIL-INRIA Privacy Award. His research findings have been transferred to innovative applications, which have been honored by attention beyond the scientific community. In particular, he received the MIT TR35 Award: the best 35 researchers and innovators worldwide below the age of 35, across all disciplines, whose "accomplishments are poised to have a dramatic impact on the world as we know it". He was moreover elected as the youngest member to date in acatech – the German Academy of Science and Engineering in 2014.