For two weeks, 14-year-old Max's workplace is an office on the second floor of CISPA's main building. The room is sparsely decorated, with four large tables, plain office furniture and large monitors connected to laptops. On some days, three doctoral students are sitting around him, some just 10 years older than him. Max's internship task: coding a video game. Nothing new for Max, as he has already had experience with the game editor Godot. "I often have ideas for my own games," he says. This time, his task was to program a game that can't be won.
A game with words
The idea of Max's game is to type words as quickly as possible without errors. When a word is typed correctly, it vanishes and new ones appear. Words fall down from above onto a black rectangular playing field. As a graphic element, Max has inserted 2D graphics of spaceships attached to the words. The longer the game lasts, the more words are added and the faster the spaceships move through the game field. And the faster the players have to type in the words. Players begin with three lives. They lose a live when a spaceship touches the ground. What sounds simple turns out to be quite difficult in practice. "I managed to survive 30 seconds," says Max, laughing. Not enough for the more than 100 words on which the game is based.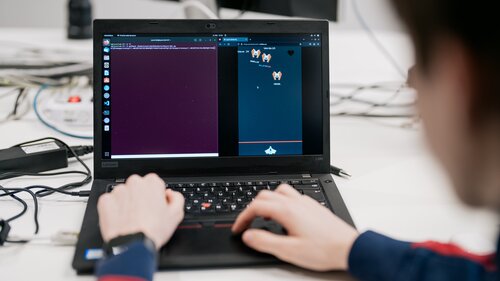 Tobias Ebelshäuser
Max came across the opportunity to intern at CISPA via a simple Google search. He is one of six student interns who, in the 1st quarter of 2023, were able to get a taste of what it's like to work at the CISPA Cysec Lab or in one of CISPA's research groups. Max was particularly interested in cybersecurity: "After all, this is a topic you encounter every day," he says. Max attends the 9th grade at the Johannes Kepler High School in Lebach. Since 8th grade, he has chosen the MINT branch, where he also takes computer science classes. Max has taught himself the basics of programming and has already completed various websites and game projects. Nevertheless, he wouldn't describe programming as a real hobby. Because his free time is usually all about playing chess. Max plays for SC 1929 Eppelborn and is U16 Saarland Champion.
Using the game at CISPA
The task that Max's internship supervisor Michael Schwarz came up with, is designed in a way that the result can be useful in various areas at CISPA. Among other things, Schwarz plans to use the game for the CISPA Cysec Lab. In addition to workshops, students and other interested parties have the opportunity to learn more about cybersecurity at hands-on stations and puzzles in the Cysec Lab. As Max´s game is impossible to be won by a human, it is interesting to see if it can be outsmarted by a computer program. But the game will also be used in research activities of Schwarz's research group. He can't reveal exactly how, but it will be used in a project that deals with the question of how video games influence people's awareness of threats, where the game will demonstrate a security gap.
A win-win situation for everyone
For Schwarz, offering student internships is important for showing young people at an early age what career opportunities are available in science and, more specifically, at CISPA. "It's important that we get the next generation excited about these topics," says Schwarz. And his PhD students also benefit from working with younger students. "They learn how to explain things clearly and give feedback, which strengthens their soft skills," he says. So it's a win-win situation for everyone. Interested students can apply via the careers page, where they should ideally already indicate their interests. "At CISPA, both voluntary and conventional mandatory internships are possible. The Cysec Lab team selects the candidates and looks for a suitable project for the students, either in the Cysec Lab itself or in one of CISPA's research groups, as in the case of Max," explains Andrea Ruffing, head of the Cysec Lab. 14-year-old Max doesn't yet know exactly where he wants to go career-wise. But he definitely enjoyed the internship and has become more interested in programming. For him, it's now a matter of figuring out how he can present what he's learned at CISPA at school.